MÉCANICAL KIT



Attention, please note, the only mechanical kit is primarily intended for makers.
To have a functional machine it will take for yourself:
– Find suppliers for the electronics, machining spindle, software
– Consult the many forums for how to set this material, especially for material recovery, it is not always obvious.
if you never built machines previously, made electrical connections, it is very

difficult but not impossible

, you need a lot of time and it is advisable to approach the fablab or hakerspace

near you live

to

benefit from the experience

of their members.

If you have previously built a 3D printer, a robot, a drone so it's

at your

reach

.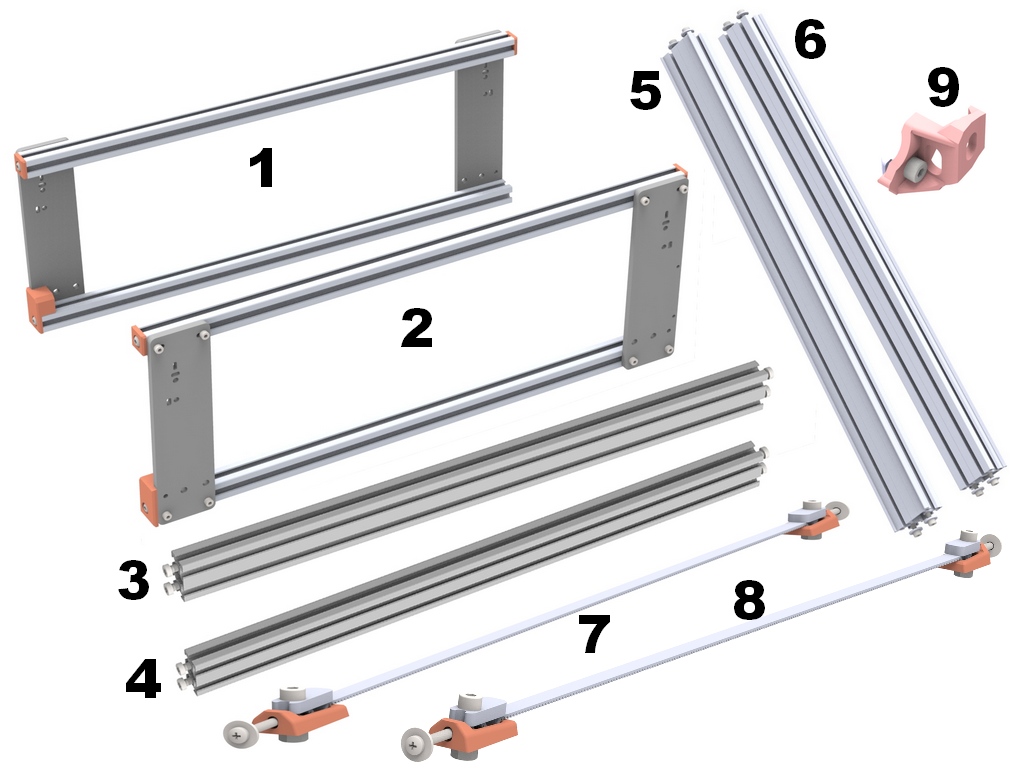 CNC Formosa 750
The Formosa CNC 750 is a 3-axis CNC for machining soft materials such as wood and plastics.
Can also be machined soft metals such as aluminum, copper and brass but with small passes and reduced speed
The size of the machine is  85 cm in length – 64 cm width and 58 cm in height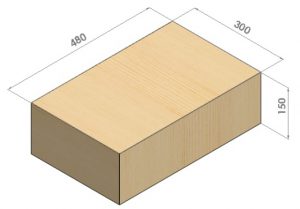 The possibilities of machining :

Cutting, engraving and sculpture
The maximum working volume is 300x480x150mm
3D printing option will be available for this model.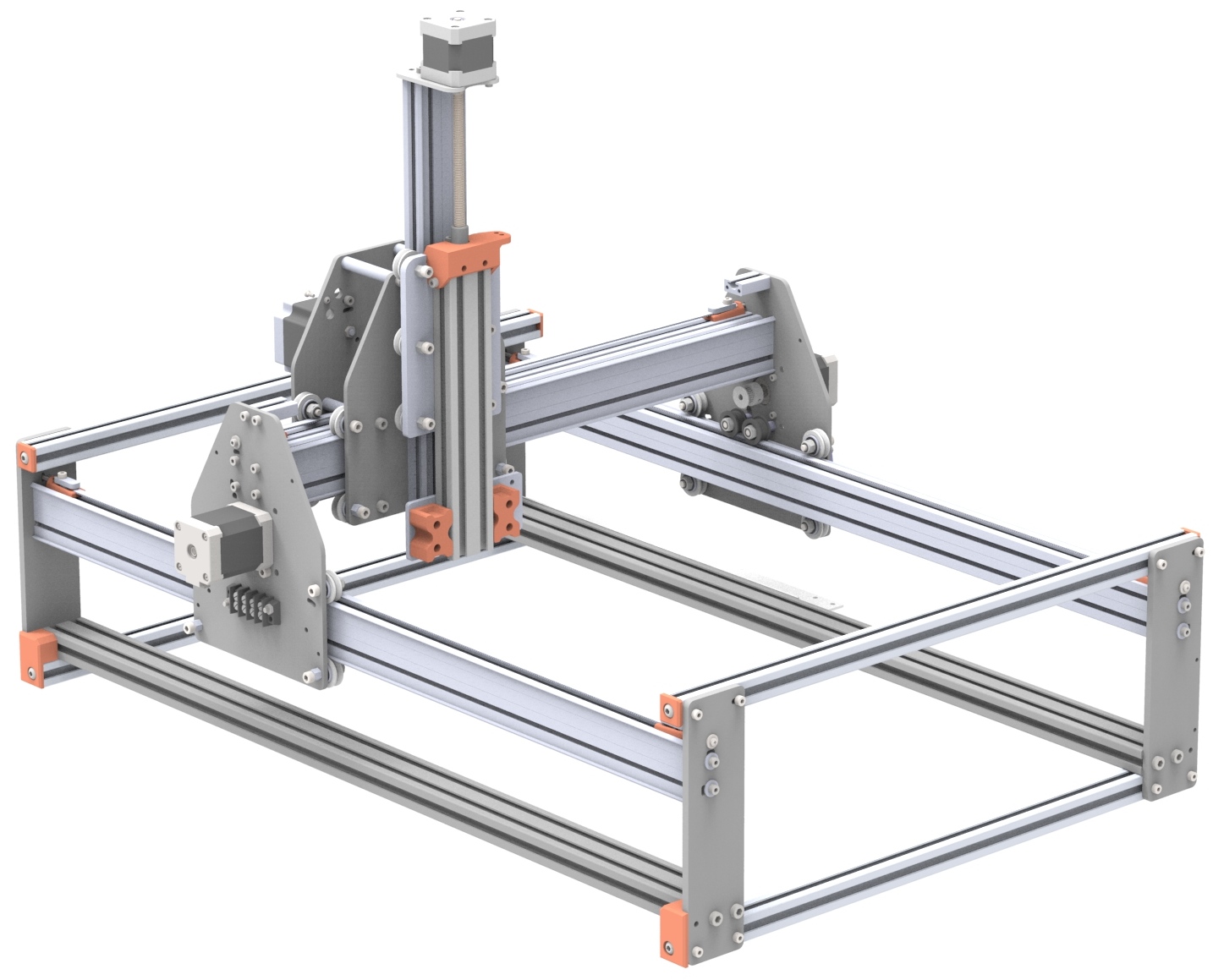 The mechanical kit is pre-assembled in our factory, remains only to connect with screws nuts major subassemblies.
2 reasons for this :
– you for your machine will be fast and simple to construct
– for us the quality control is faster, if a subset is fully functional it mean that the elements that are made to size and quality control of each small parts become unnecessary, it saves time
In mecanical kit, frame part, there :
1 et 2 – all front and rear
3 et 4 – 20x40mm lengthwise profil with screw
5 et 6 – 750mm Makerslide translation profil with screw
7 et 8 – the drive systems with belt tension adjustment
9 – The adjustable stop which will enable end-gantry running alongthe Y axis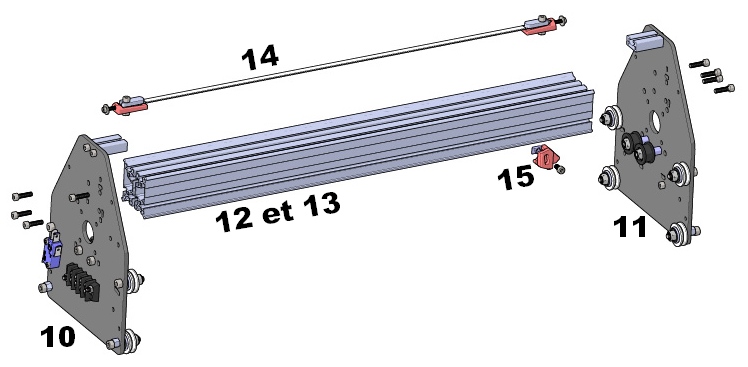 In the mecanical kit, the gantry is composed of 6 parts.
The two carriages component elements 10 and 11 are already assembled and adjusted in our workshop
The carriages 10 and 11 have terminal blocs and the carriage 10 have endstop switch, it will remain by just following a connect terminals to the electronic part.
The two carriages 10 and 11 attach to profiles Makerslide Taiwan each side with 4 vis
The adjustable belt transmission system 14 and X axis abutment end 15 complete the mechanical part of the gantry
The carriage of the X-axis is composed of only two parts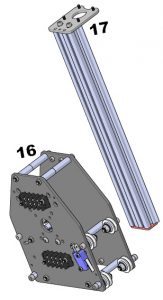 The part 16 is already pré-mounted and setting with eccentric
There just need fixd the part 17 with for bolts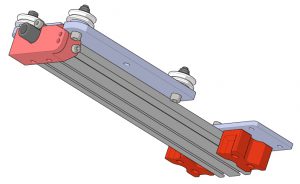 Z  axis carriage is already mounted and setting in our workshop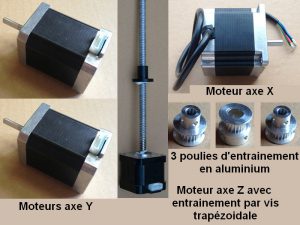 Mechanical kit of CNC Formosa can be ordered with or without steppers motors and pulleys.
It is recommended to choose the steppes motors option to have consistency between the frame, steppers motors and électronic control.
The stepper motors offered by makerslide machine have been tested during 3 years, we always use the same supplier because we have always been satisfied with their steppers motors during these three years.
The two steppers motors of  Y axis allow a total torque of 1.3 N.m in Y axis
The X axis motor allows the equivalent for X axis  1.3 N.m
The linear motor for the Z axis allows a translation without backlash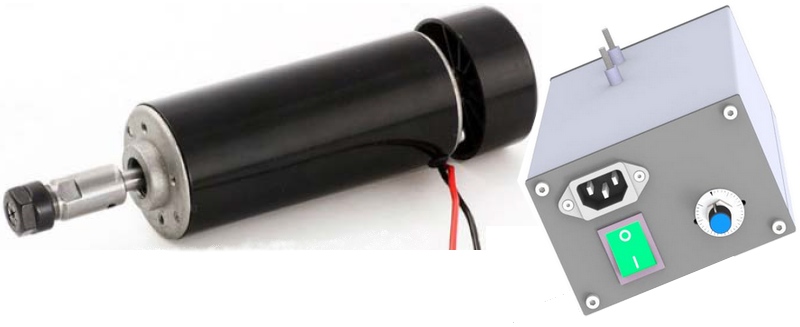 Concentricity of this spindle is from 0.01 to 0.03mm and the kind of tool chuck is ER11.
Which allows to insert various tools having a shank from 1 to 7mm.
SPINDLE

MACHINING
The machining spindles delivered with CNC Formosa are 500 Watt power,the power supply is external in an aluminum case. This spindle feed box is easily attached to the front of the machine.
A dimmer over the power box is used to vary the speed from 0 to 12,000 rev / min
The operation of this DC machining spindle is quieter than other equivalent power, it is also fairly light since the power supply portion is external.
3 ) The electronic card has network connectivity, allowing control your machine remotely via your wired network or Wi-fi by adding a small router
4 ) It is easy to configure, (setting motor stepper drivers digital, centralized all settings in a single file)
5 ) Support and documentation available through the official websitehttp://smoothieware.org/ but also through a large community of users and experts can be contacted on the forums, chat IRC, Google+ dedicated to this eletronic card.
ELECTRONIC

CONTROL BOX
The electronic card used to control the machine is a smoothieboard 4 axis card.
The microcontroller of this card is the ARM32-type that is to say the same type that you have for your mobile phones or graphics tablets.
Severeal raisons for this choice
1 ) The card is universal and suitable for all machines driven through language Gcode
This makes your CNC highly scalable, you can easily add a 3D print head or a laser engraving head
2 ) The power and smoothie control of motors steppers is much more important such as electronic solutions based on Arduino boards.
En apprendre plus
| | |
| --- | --- |
| Smoothieboard  | Arduino Atmega |
| Microcontroleur ARM 32bit | Microcontroleur Atmega 16bit |
| Vitesse 120Mhz | Vitesse 8Mhz |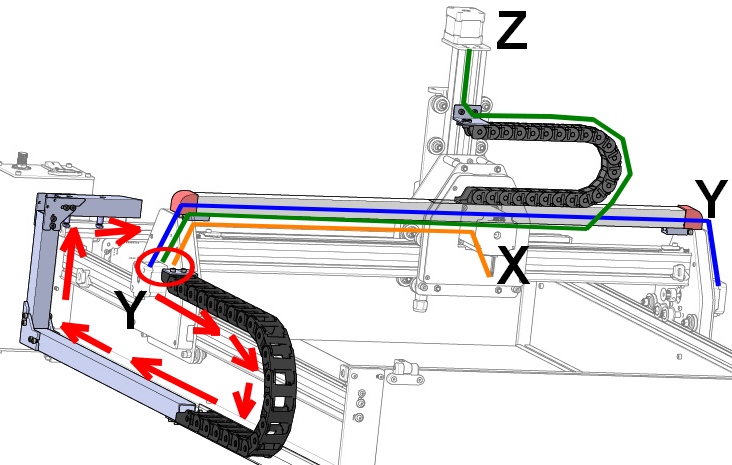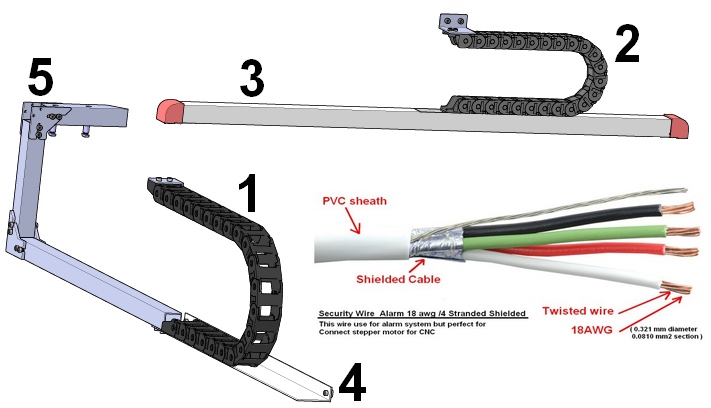 ELECTRICAL WIRING
The cable to power the coils of stepper motor must have four wire and be shielded.
Indeed the working spindles have an important winding which may interfere by disrupting the control electronics. This can result a motor step lose if the cables are not shielded.
These cables must be of sufficient section to bear the maximum intensityof the engines.
To manage the many cables (stepper motors, limit switches, power supply pin) a cable chain in different parts is delivery.
1 – moving cable chain of Y axis
2 – moving cable chain of X axis
3 – fixed cable chain allowing among connection between the two motors of the Y axis
4 – Y cable chain support
5 – fixed cable chain to electronic box

POWER SUPPLY
24V 5A external power supply provides power to the PCB via its 5V regulator and also the stepping motorsthat need each about 1.6 A