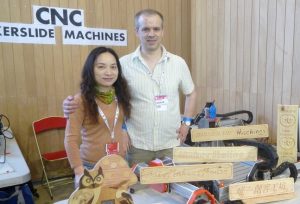 We are a couple of makers from French & Taiwan.
We started our projet 3 years before due to a crowdfunding in Taiwan.
https://www.flyingv.cc/projects/4070
We promise to create a special aluminum profil Makerslide Taiwan which is the base to build up our machines by using the money we collected.

In the beginning, we sell kits of 3D printer and milling CNC for makers in Taiwan and some part of Europe.

We recently live in France and we orient our products as universal machines, using milling CNC as the basic, in the same time, with simply adding some elements, the machine is capable to be a 3D printer , laser engraving …
Since we have joined many Maker Faire exhibitions, we get to know more about what fonction makers need for digital fabrication.
The concept and documentation of our machine is an Opensource, everyone can freely download.
People who need help of building and operating the machines or the ones wanted to learn , contact us as well, we run small group workshops in France from October 2016.
 Like workshop already organize in Taiwan ( see TV report about workshop we was organise in Changhua in south of Taiwan )